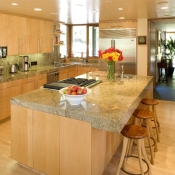 Mandeville Canyon Residence, Brentwood, CA
A 7000 SF major renovation and addition to a spec house on a one-acre hillside site. Architectural features include vaulted wood and plaster ceilings, dry stack stone walls and fireplaces, clear story spaces, and extensive wood detailing and cabinetry. Exterior and interior walls are enhanced with sheer glass and mitered, corner windows. All materials and finishes were specified to meet sustainable and healthy-house concerns.
View Portfolio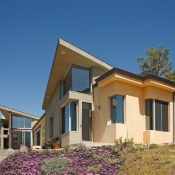 Old Topanga Road Residence, Topanga Canyon, CA
Situated on a ridge at one of the highest points in Topanga Canyon, this 3000 SF residence was inspired by the Red Tail hawks that frequent the area in their natural habitat. Using a series of trapezoidal roofs, high ceilings and open glass walls, we created a feeling of movement and flight. There are intentionally no hallways, allowing each space to flow into the next. The panoramic views are accessible from each room. The colors and materials were selected to mirror the rustic character of the landscape and foliage. Sustainable and green architecture were used throughout.
View Portfolio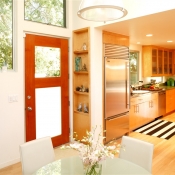 Westgate Avenue Residence, Brentwood, CA
The client was interested in modern architectural design, particularly the simplicity of orthogonal lines, an open floor plan, and natural light. The modern lines of this 3,200 SF house are accentuated by the use of smooth concrete, steel and glass for all exterior finishes. The landscaped courtyard is the focal point of all public spaces throughout the house. The choice of natural materials enriches the geometric lines used for all interior design elements, including cabinets, shelves, and desks. In contrast to the stark exterior, the interior is softened by the use of warm colors, hardwood flooring, maple furniture, and natural limestone.
View Portfolio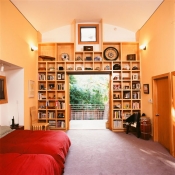 Santa Monica Canyon Residence, Santa Monica, CA
The client's preference for barns and New England rural architecture influenced this 6,400 SF house in both its layout and character. Spaces with high ceilings with natural exposed woods and stone finishes create a warm and modern interior. The studio space has floor to ceiling pocket doors that open to the back yard and a built-in wooden grid of maple shelves for the owner's eclectic collection of memorabilia.
View Portfolio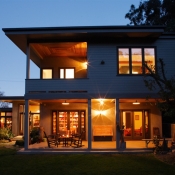 Hanley Avenue Residence, Brentwood, CA
This 4000 SF project began as a single story residence with influences of 1960's modernism. Many inspirations were brought to the project from Montana and Wyoming where the owners spent much of their vacation time. Rustic and rich finishes were used to create a warmth found in the log cabins of the West. From the second story views of the Santa Monica Mountains and the California coastline are featured from all points of the master bedroom suite.
View Portfolio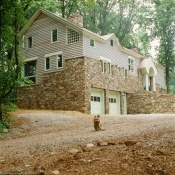 Virginia Residence, Cobham, VA
This project includes the design of the 5,400 SF main house, chapel, guesthouse, farmer's cottage and livestock barn. The client had requested that the main house be on the highest ridge in the 600-acre property and have a timeless and organic character.
This was one of our first projects incorporating sustainable materials and practices. Stone was collected from the property to create foundation walls and fireplaces and siding was harvested from trees growing on site.
Copper trim and roofing were selected for durability and its ability to patina to the same color as the lichen growing on the rocks and trees on the hillside.
View Portfolio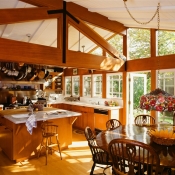 Carmelina Residence, Brentwood, CA
This project is a complete redesign of a one story ranch house into a three story, 4,400 SF house, envisioned as a reinterpretation of a classic craftsman style home with references to Vermont vernacular architecture. The client wanted traditional warmth while incorporating modern living requirements. The interior finishes are light and open, focusing on a central atrium and stairwell that brings light throughout the house. The atrium was designed with internal ventilation to prevent the need for air conditioning while creating a breezy feel. The kitchen, dining and living spaces are contiguous and all face the year yard, creating a sense of unity for both family and back yard entertaining.
View Portfolio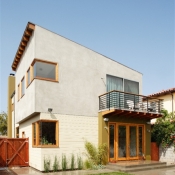 Twenty-eighth Avenue Residence, Santa Monica, CA
This 2,800 SF project began as a run-down ranch house and was transformed into a suburban loft, tripling the existing square footage and transforming it into a warm and comfortable home for a young family. Simple finishes and creative solutions kept the project to a tight budget and timeline, resulting in a spacious and elegant residence.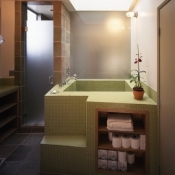 Twenty-Sixth Street residence, Manhattan Beach, CA
Originally conceived as a New York City loft at the beach, this new construction 3,480 SF residence defines itself as a series of simple yet elegant spaces. It is situated on a narrow "walk-street" near the beach. A series of sliding glass panels open the front of the house and courtyard to landscaped gardens. A tree house was the inspiration for the stairwell, a lofty central structure that formed the backbone of the house. Other features include a split master bath with shared area, soaking tub, walk-through shower, roof-top home office and deck.
View Portfolio

Kenter Canyon Residence, Brentwood, CA
This 2,200 SF case study house, originally designed by Quincy A. Jones, was purchased in relatively original condition but showing a lot of wear and tear. The clients asked that the additions be done with an air of levity and creativity, yet with deference to the original architect. The flying wing roof over the new master bedroom, with its glass transom, creates a simultaneous sense of exposure and privacy. Many of the sheer glass walls look into private garden areas on the property. Natural materials and warm neutral colors were used to enhance the sense of serenity.
View Portfolio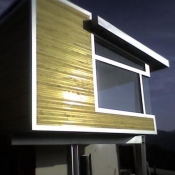 Topanga Barn House, Topanga Canyon, CA
Built on a flat pad initially intended for a barn, half way up the side of a mountain, the 2000 SF guesthouse was built to accommodate family members or business partners visiting for extended stays. Placement of windows and openings are specific to capture both sunlight and particular views of the canyons and foliage. The exposed structural elements echo the rugged and sometimes raw landscape of the Santa Monica mountains.
View Portfolio
The above residential projects are among the hundreds of residential projects Ehrenclou Architects has done over the years. Most current works in progress are not listed.